The Best Career Choice you can make, let's get you enrolled in Real Estate School.
The education and support you need to get your Real Estate License and build the career, life and future you want starts here!
Welcome to Agent Real Estate Schools
If you're looking for a trustworthy resource to guide you through the pre-licensing process in a productive and inspiring learning environment, we are so happy you found us!
Agent Real Estate Schools was founded in 2013 formerly known as KW Real Estate Schools to provide a comprehensive pre-licensing course program along with on-going real estate courses.
The concierge approach offered exclusively from Agent Real Estate Schools ensures you'll never be wondering "what's next?" We are with you every step of the way including the on-boarding process, the launching of your real estate career, and even working with you to select the right brokerage to partner with to set yourself up for success.
As a student of Agent Real Estate Schools, you'll have access to all the features and benefits as you go through the steps to obtaining your real estate license.
Ask us about Trusted Brokerage Partners in your area. that we believe have the best NEW AGENT Training Programs for launching a new career in real estate sales!
We have partnerships with both brokerages and teams that are comitted to helping you jumpstart a real estate career after passing your exam.
Come to us to find your fit, we help set up your interviews once you get your real estate license.
By taking advantage of our partnerships your eligible for the 100% reimbursement program which means the Broker will pay for the full cost of your course from your first closing.
Your Starting Point to Success
Begin your new career, life, and future in real estate by attending a free career event unlike any other!
The world of real estate is an ever-changing industry. With a lack of the proper guidance, many people miss a glowing opportunity to become a licensed agent toward developing the fulfilling lifestyle they seek. Fortunately, that is why we are here! We strive to be an educational foundation for you and your future. Before you decide to enroll and begin your training, we highly encourage you to come say hello and find out more at our virtual Career Day event
What is it?
Career Day is a unique interactive discussion, led by licensed professionals who are more than enthused to share their years of experience with like-minded entrepreneurs like you! These live online meeting events are specifically designed to be welcoming and helpful to all individuals from every background. With a variety of dates and times we offer, you will find the best slot for your schedule and hopefully find your solution in us.
Why Real Estate?
If you're pursuing a career change or desire an extra source of income, getting into real estate could be the solution you need! As a licensed agent, you'll be essentially working for yourself! You will have the ability to set your own schedule, choose your own deals, operate in the area you want, and most importantly make a substantial living!
The beauty of all of this is that every student has different motivations for choosing real estate. Real estate is a massive industry that is suitable for skills of all kinds, techniques, and personalities. It is the foundation of success for everyone involved and could very well be the start of something very new and exciting for you!
Your Questions Answered
The offers of real estate are limitless! By attending one of our live webinars, you'll be able to ask an assortment of questions and get immediate, honest responses to the following:
How many sales can expect in my first year?
What are the advantages of being an individual or a part of a team?
What training do I need before and after I get my license?
When can I start?
Don't be afraid to think outside the box and ask your own questions either, this is your time to discover how you can fit in the world of real estate.
Agent Real Estate Schools is a student-centric premier source for pre-licensing courses per the requirements to sit for your Real Estate License State Exam. Our approach to bundling course packages is with you in mind.
You receive an online live 1-Day Prep course, state exam practice questions, and everything you need to be fully prepared to pass your state exam.
Our instructors are actively working licensed real estate professionals with extensive teaching credentials who truly care about your success.
Choose Your Ideal
State Course Package
Fast Track
All Online Program
Real Estate Principles
Real Estate Practice
Legal Aspects of Real Estate Law
1100+ online practice exam questions
1-Day Prep "Live Online" Course & Student Manual
Group Study
Unlimited "Live Online" Programs
Real Estate Principles
Real Estate Practice
Legal Aspects of Real Estate Law
1100+ online practice exam questions
1-Day Prep "Live Online" Course & Student Manual
1-Day Prep
Unlimited "Live Online" Programs
12-Week Review of Group Study Content
Strategies to passing the state exam
Real estate terms and word glossary
1100+ online practice exam questions
Student Manual
Broker License Course
Online Only
Property Management
Real Estate Appraisal
Real Estate Economics
Escrow and Title
Real Estate Finance
Real Estate Administration
1100+ online practice questions
1-Day Prep Course Live Online Review Course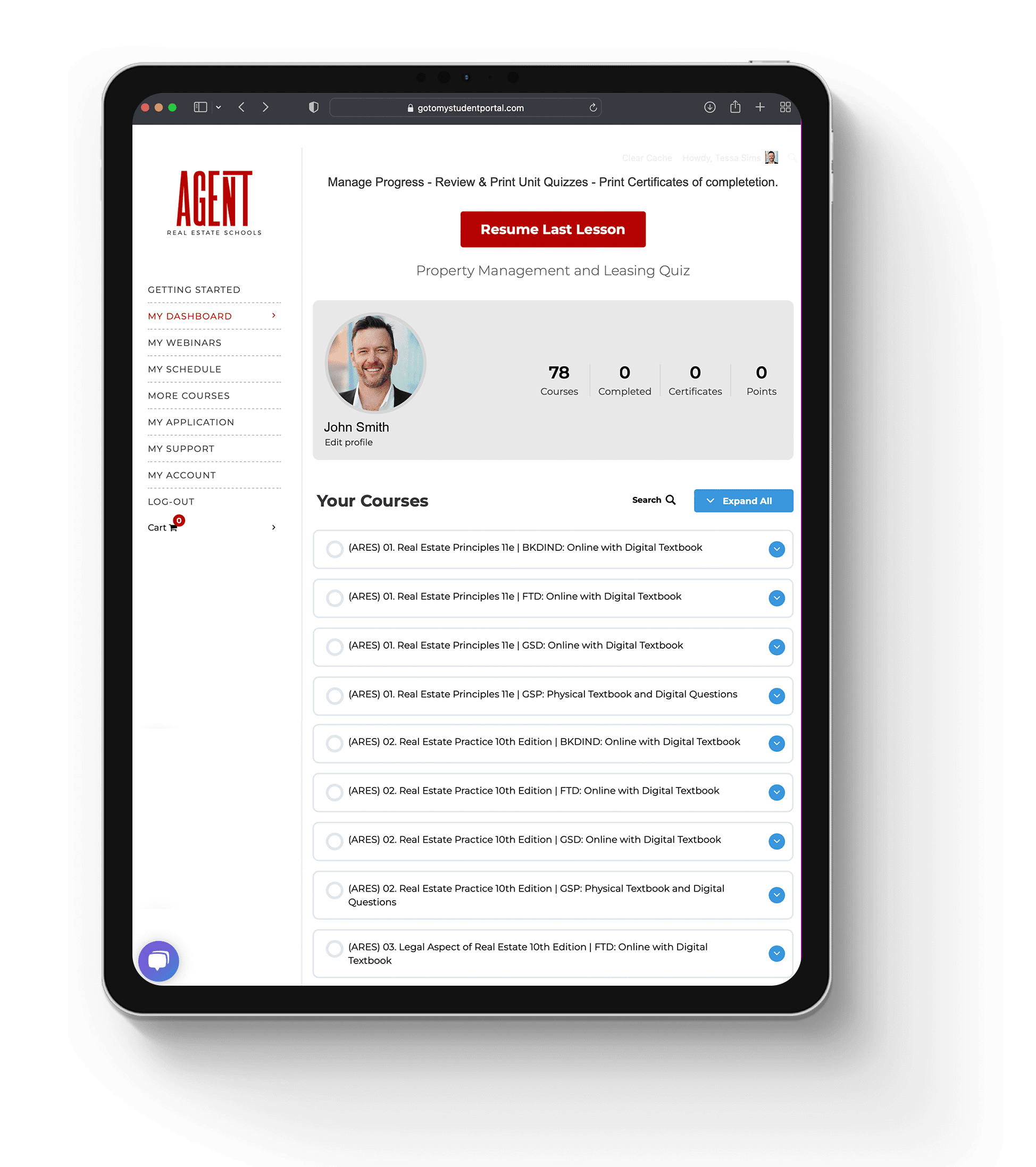 Career Day Events
Learn More about being a real estate agent.
Steps to Your License
Step by Step Process detailed in getting a real estate license.
Professional Development
Coming Soon as a resource for "members only"
Study Tools
State Exam and Key Word Practice Questions, Student Manuals, Handouts
Live Online Classes
Instructors navigate you through the Salesperson Courses via online live Instruction
Video & Audio
Video recorded sessions and coming soon Audio tutorials
What Our Students Are Saying About Us
Jasmine Jones
This class program is one of the best. My professor Barbara is the best. She makes the class fun and personable but still very professional. Professor is very informative and pays attention to the small details in each unit we cover for the week. Very excited to begin my real estate career and know I am prepared to pass the state exam.
Anthony Dunlap
The class format is very helpful, it's impossible to fail with all the help they have to offer and how much knowledge that the professors have. Great things in my future so I would without a doubt recommend Agent Real Estate School to anyone looking for knowledge in real estate or even a career change!
Devin Clark
I took the Fast Track course due to COVID and have found the course very educational. The online courses were easy to follow, and the training material organized and well written. I would've enjoyed the networking that comes with in person classes and getting to know your classmates, but it wasn't meant to be in 2020. I would recommend Agent Real Estate Schools to anyone.
Enrique Teigeiro
Agent Real Estate Schools teachers and support staff are absolutely great! Always available and happy to help the students. Also. The actual learning system and the tools that you get are fantastic, they make the studying a pleasure. I would recommend anyone that is interested in becoming a Real Estate agent to start their adventure with Agent Real Estate Schools.