Group Study
Learn about Michigan Real Estate with a live online Instructor
Raise your hand if you're ready to take your Michgan real estate pre-license education with a live instructor from the comfort of your home office!
For those who enjoy a live instruction, interact directly with a top producing agent-instructor by enrolling in our flagship 6-week program we call Group Study.
Ideal for individuals who prefer an audio-visual-kinesthetic learning style, this hybrid program combines both convenient, online features and in-person components.
You can access quizzes and exams easily through your student portal and get exclusive access to 2-hour live weekly classes. Give yourself the benefit of becoming a fully-immersed and attentive student by attending these interactive classes.
Learning real estate has never been easier. With our newly improved student portal, we provide students with user-friendly features that requires no technological expertise. On the go? No problem! Our system is compatible on most mobile devices, including desktop, mobile, and tablet. Access your course materials, take and pass quizzes and final exams with the simplicity of our portal.
Price: $599
Everything you need to pass the real estate license exam and more:
Student Orientation and Private Facebook Forum
40 Hour Lara Approved Course

Michigan Real Estate Fundamental v3.0
Option of Physical Textbook

Course divided into 6 Weeks

1-5 Units Each Week
Live Interactive Webinar 2-Hour Weekly Classes

Taught by an Agent-Instructor

Interactive Webinar Format

Access to Current and Past Webinar Recordings
Pass with a Score of 70% or Higher

Results Displaying Correct/Incorrect Answers

Explanation/Reasoning Provided for Incorrect Answers
Glossary and Answer Key Addendums
FREE 1-Day Prep Course for the State Exam

1-Day Prep Practice Online

700+ State Exam Practice Questions
Your Student Portal
Your student portal is your home for all the resources you will need throughout your real estate journey. We want to make sure our learning system is as effortless and efficient for you as possible.
Getting STarted
Here you will find your Student Orientation and an invite to join our private Facebook Group.
Dashboard
An overview of your enrolled courses where you can review quiz results, access and print completion certificates.
Courses
Access enrolled and additional course options here where you will view your online textbooks, required course work with online quizzes and final exams.
Webinars
Offers full access to Interactive Webinars held Saturday mornings, current and past webinar recordings, and sales training videos. This feature is available to Group Study students only.
Schedule
View all upcoming Group Study and 1-Day Prep Course locations, dates, and times. RSVP for 1-Day Prep attendance when it comes time to taking the state exam. Let us know if you'd like to "Be Our Guest to any of our Group Study In-Class and/or Interactive Webinars.
LARA Application
Once you've completed your required courses this resource walks you through all your next steps for applying to the State of California for your salesperson license.
Support
Reach out via email or chat if you need additional assistance in navigating your student portal. Locate FAQs here.
Account
Your personal information, scheduled orders, payment plans and billing can be found here.
This could be your Virtual Classroom for the next 12 months, if you start today!
Complete your Pre-License Education
The State of Michigan Department of Licensing and Regulatory Affairs (LARA) requires that you are at least 18 years of age, a US citizen or permanent resident alien and show proof of high school graduation or equivalent. You are required to take 40 hours of Michigan Real Estate Fundamentals of which 4 hours must be on civil rights education before you can sit for your licensing exam. You may complete the 40 hours in a live classroom setting or online. There are advantages to both.
Agent Real Estate Schools, courses are approved by the The State of Michigan Department of Licensing and Regulatory Affairs (LARA) as home study/online courses – not live courses. Our Group Study course is optional and not required to pass the course. They include the benefits of "non-mandatory" group coaching sessions to informally review previously submitted homework assignments and to answer general questions related to the online course content.
Whether you are ready to start your career in residential or commercial real estate sales, it all starts with the same real estate salesperson's licensing process.
After confirmation of enrolling, you will need to complete a quick online Student Orientation to officially welcome you to your program. You will then be able to view structured quizzes that pertain to the lessons in your textbooks as well as your overall progress throughout each course.
Group Study is designed to be a freeform progressive course which allows you to drop-in and get started on your coursework at any time in the 8-week cycle. All the content is taught independent of each other, for example, if you start your 8-week cycle at the end of Michigan Real Estate Fundamentals v3.0, you will complete your coursework cycle at the beginning of Michigan Real Estate Fundamentals v3.0. Each student will be on their own Group Study schedule.
Note: LARA requires a minimum of 40 Hours of clock time to complete all coursework including your final exam.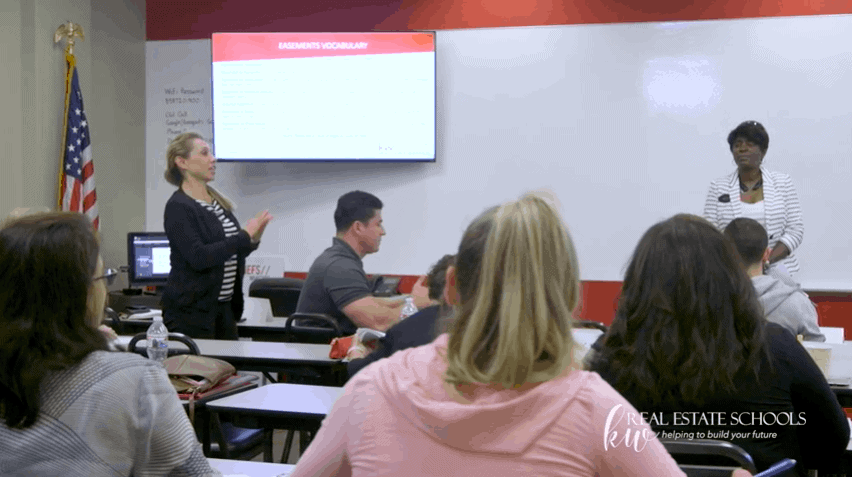 SAVE UP TO $100
When you attend one of our interactive Career Day events to meet with experienced agents and learn more about the endless possibilities in real estate, you will be gifted with this generous discount.
3-MONTH PAYMENT PLAN AVAILABLE
Ask about our one-and-only 3-month payment plan. We want to ensure your journey with us is both valuable and affordable. Put a deposit down today to get started immediately. Same price, same education, NO additional fees.
100% FULLY REIMBURSABLE
Yes, 100%. No, you did not read that wrong. Let's say you enroll with us, take and pass the state license exam and officially become a licensed agent. If you join a participating Keller Williams brokerage near you, the cost of your program will be FULLY REIMBURSED from your first closing! Not too bad, right?
Be Our Guest
Free
If you still haven't decided whether this program is right for you, you're invited to BE OUR GUEST. Drop in and visit our class online as our guest to experience our unique learning environment. Benefit from this amazing opportunity and indulge in the following:
Meet the instructor

Interact with peers

Participate in discussions

Take notes
What if I'm ready to enroll?
If you're ready for us, then we're ready for you! You can always come back to attend Career Day in the future. For right now, let's get you started with onboarding and put you on your way to success.
What Our Students Are Saying About Us
Jasmine Jones
This class program is one of the best. My professor Barbara is the best. She makes the class fun and personable but still very professional. Professor is very informative and pays attention to the small details in each unit we cover for the week. Very excited to begin my real estate career and know I am prepared to pass the state exam.
Anthony Dunlap
The class format is very helpful, it's impossible to fail with all the help they have to offer and how much knowledge that the professors have. Great things in my future so I would without a doubt recommend Agent Real Estate School to anyone looking for knowledge in real estate or even a career change!
Devin Clark
I took the Fast Track course due to COVID and have found the course very educational. The online courses were easy to follow, and the training material organized and well written. I would've enjoyed the networking that comes with in person classes and getting to know your classmates, but it wasn't meant to be in 2020. I would recommend Agent Real Estate Schools to anyone.
Enrique Teigeiro
Agent Real Estate Schools teachers and support staff are absolutely great! Always available and happy to help the students. Also. The actual learning system and the tools that you get are fantastic, they make the studying a pleasure. I would recommend anyone that is interested in becoming a Real Estate agent to start their adventure with Agent Real Estate Schools.